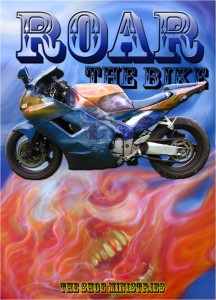 Project DVD 8 – Roar, The Bike
Single disc: R100.00 (excl postage)
English
Aldo wanted a spray job on his motorcycle that would really mean something.  Ron van Zyl painted a magnificent story on his bike.  This DVD shows a little of the progress of the spray job and also the story of the paintings by Aldo himself and also by Ron. 
The Bike was used as a great ministry tool. Aldo took it to rallies and told people the Gospel of Christ. The bike was in an accident and it does not exist any more. The DVD shows the magnificent paint job.
Ron still does Airbrush work on order. You can contact him regarding this.
Duration: 40 minutes