This Magnet is named CREATION.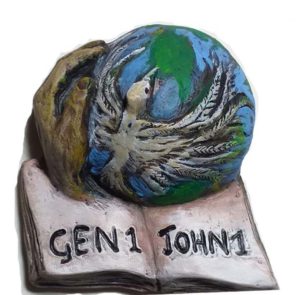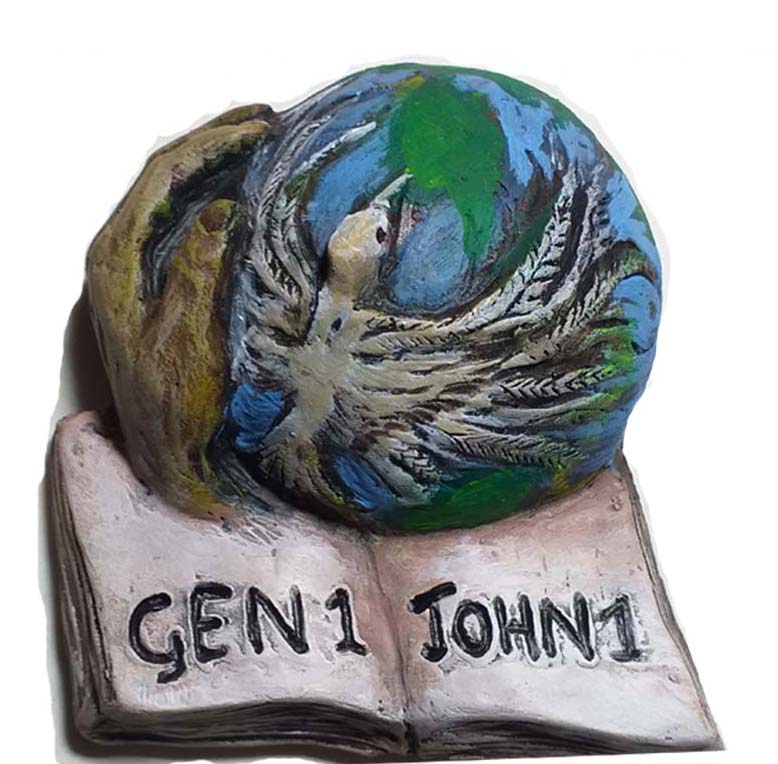 I love John 1 that starts with:  In the beginning was the Word, and the Word was with God, and the Word was God…and later in verse 14 it says and the Word became Flesh and dwelt among us…
In this magnet I am portraying how the same word of God who created the world as described in Genesis 1 is the same word who became flesh. (Thus the hand coming out of the Bible)
The fact that the Word of God creates everything it is sent to do and that it never comes back empty gives me Goose bumps. As I was thinking this over I suddenly realized that not only was I created by the Word of God, but that the same Word who became flesh died for me on the Cross.  Then Jesus ascended up to the Father where he sat at the right hand of God. Then according to ACTS 2:33 Jesus received the promise, the Holy Spirit which he then in turn poured out on us! Thus we did not only just receive the Holy Spirit but we received the Spirit of Jesus Christ.
When I studied all the scriptures I could find mentioning the Holy Spirit I found a few key facts:
The Holy Spirit abides in every believer, the Holy Spirit is always demonstrated with Power. Luke 4:14 says Jesus returned from the wilderness in the power of the Holy Spirit.  ACTS 1:8 says believers shall receive power after the Holy Spirit came upon them. Rom 15:19 says through the power of the Holy Spirit the apostles did mighty signs, wonders and miracles. Then the Holy Spirit is also the Word of God. Eph 6:17 says we should take up the Sword of the Spirit which is the Word of God. 
Thus in the magnet I show how the Word became flesh but the same Word is also the Spirit of God(demonstrated by the Dove) which was sent forth with Power to create. This very same power is also in each of us for the Spirit of God was not poured out in measure John 3:34 and the manifestation of the Spirit is given to EVERY believer! 1Cor 12:7.
The power to create is in us, and it is in our words. We should be careful to speak only what is pure, lovely and truthful. 
My prayer I was praying over this magnet as I created it and over every one I paint is that you will be made aware of the Power of God in you! That we will start to use the Power of God, to accomplish the will of God in this world. 
If you would like to get hold of my magnets please email me. 
I would love to hear your thoughts! Please comment below!