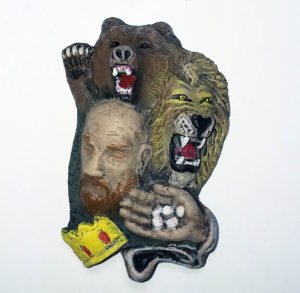 Do you Remember David?
Yes David who was the youngest of eight sons.
David who were tending sheep and suddenly was anointed as King.
The same David who did not have the outward appearance of a King.
David who wrote 75 Psalms in the Bible, who played a harp and who was A MAN AFTER THE HEART OF GOD….I could go on and on about David.
David made mistakes and David was an ordinary man like any of us. The One thing that made David extraordinary was his FAITH in God.
David never backed down from a fight. He always trusted God for everything he needed. Weather it was victory, safety or provision, God was his refuge. Just read the Psalms and you will know that David knew God was with him.
That is the message I want to bring acros to you with this new magnet I made.
On the Magnet you will see the Bear, The Lion and the Giant. When David stood before King Saul seeking approval to fight Goliath this is what he said:
1 Sameul 17:37: "David said moreover, The LORD that delivered me out of the paw of the lion, and out of the paw of the bear, he will deliver me out of the hand of this Philistine. And Saul said unto David, Go, and the LORD be with thee."
David remembered what God had done for him in the past, we should also remember our past victories. We keep our faith high by remembering! We encourage ourselves for what lies ahead by remembering what God has done previously and that He never changes and will do it again! God is faithfull!
That is the main problem the Israelite's had. They never remembered what God did for them in the past and they always got discouraged by murmuring and looking at the problem instead of believing God for what He has done!
Remember what God has done!
With this magnet I want to encourage you to REMEMBER what God has done for you! When we remember we become Victorious. Also at the bottom of the magnet you will see the Crown. David's victories eventually caused him to become King. A King has to be victorious. We are kings and Priests of God. We are to be overcomers over every problem the enemy throws at us. Like David was anointed to be king years before he actually became king, so are we. When we gave our hearts to Jesus he made us kings with Him. Just like David we should be victorious in order for us to grow up into our kingship. Understand that all things were put under our feet (Eph 1:23) and nothing shall by any means harm us! (Luke 10:19)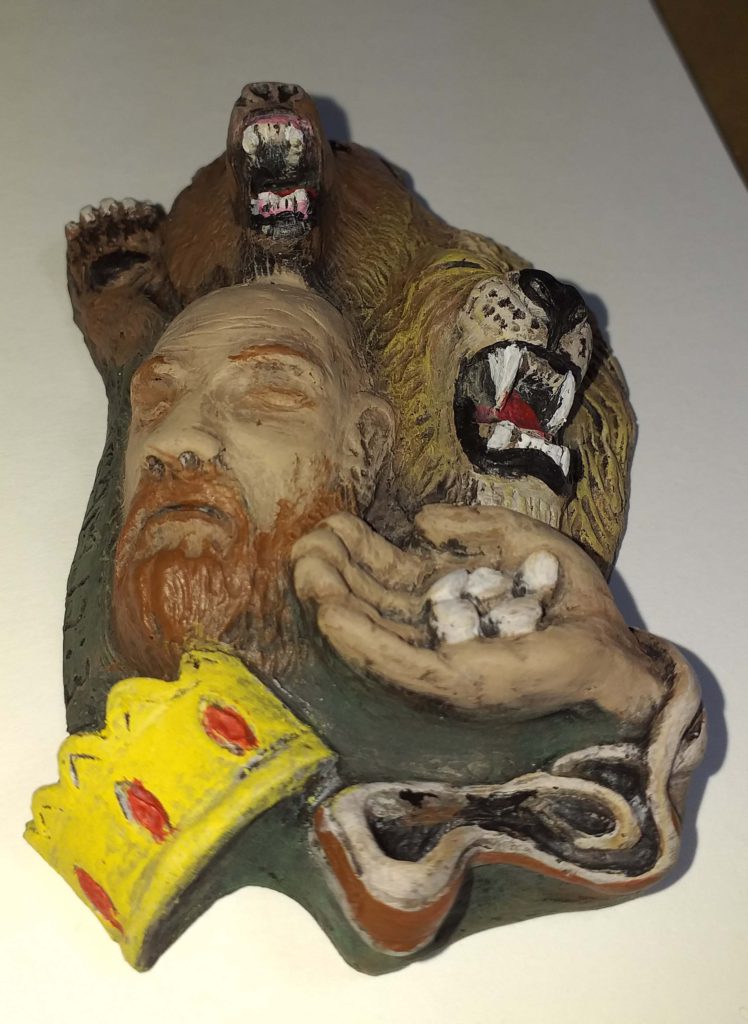 Why did David pick up 5 Stones?
I once watched a testimony of a well known Afrikaans singer. He was going through a tough financial time and was playing in the Church band. He said he was feeling very down and discouraged but got up and went to Church. At Church an old Lady got hold of him and told him to be like David! Being down he said to the old Lady. But David picked up 5 stones and he only needed one! Even David had doubts! No! Replied the lady, 'You don't read your Bible son!' Goliath had a Brother and 3 Sons who were giants too! David picked up 5 stones for 5 Giants but God slayed the rest. David only had to kill one!
At the bottom of my magnet you will see David's hand holding his five stones and slingshot around his arm.
Today I give you 5 stones:
If God is for you who can be against you? Romans 8:31
All things that pertain unto life and godliness has been given unto us! 1 Peter 1:3
In all things we are more than conquerors through Christ that loved us. Romans 8:36
God has not given us a spirit of fear but of love, power and a sound mind. 2 Timothy 1:7
Nothing can separate us from the Love of God. Romans 8:39
Please leave your comments I would love to hear from you!
If you would like to own one of my magnets Email me.