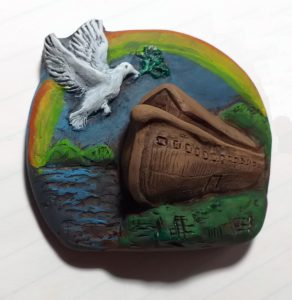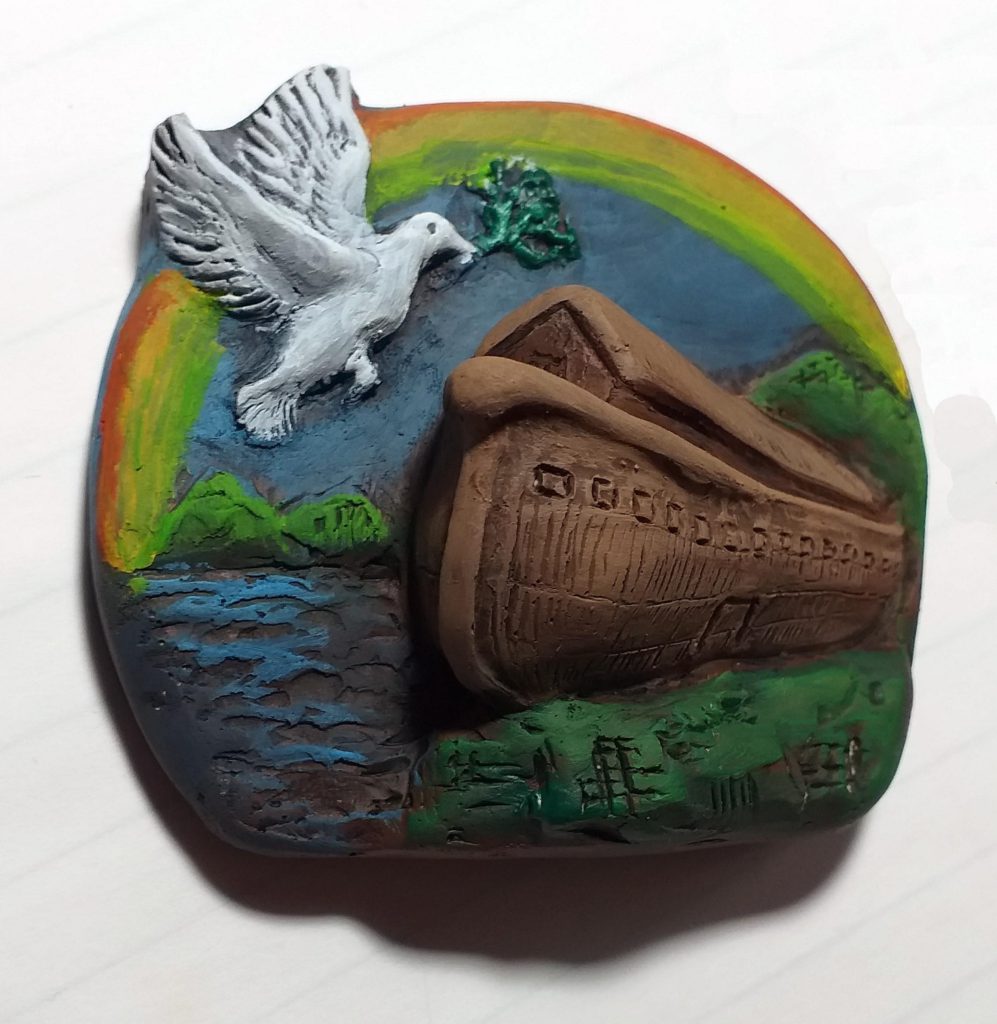 I made this design because I want to remind people of the Covenant promise which was made to Noah and also to us. The first covenant ever recorded in the bible was when God promised Noah that he would never again destroy all the people of the earth.
Gen 9:13-15: "I do set my bow in the cloud, and it shall be for a token of a covenant between me and the earth. And it shall come to pass, when I bring a cloud over the earth, that the bow shall be seen in the cloud: And I will remember my covenant, which is between me and you and every living creature of all flesh; and the waters shall no more become a flood to destroy all flesh."
You can read the entire story on Noah in Genesis 7 to 9. We have this covenant promise from God that he will not destroy all flesh ever again. God said while the earth remaineth, seedtime and harvest, and cold and heat, and summer and winter, and day and night shall not cease. Genesis 8:22
God's word is true and God can not lie. This promise was given to every living thing. Whenever disasters strike the earth remember God's promise. The disaster does not come by God.
Isaiah 54 is one om my favorite chapters in the Bible. Please read the whole thing because it has so many great promises and contains great declarations we can pray for safety and protection. See my post on Safety and Protection.
Isaiah 54:9: "To me this is like the days of Noah, when I swore that the waters of Noah would never again cover the earth. So now I have sworn not to be angry with you, never to rebuke you again. Though the mountains be shaken and the hills be removed, yet my unfailing love for you will not be shaken nor my covenant of peace be removed," says the LORD, who has compassion on you.
This is a great promise. God's unfailing love will not be shaken! If you read this same chapter further down it is the same place where He says that no weapon formed against us will prosper! It also says that all our sons will be taught of the Lord and they will have great peace! Another great promise we can declare over our lives.
Have you ever wondered why God made the flood to come in the first place?
Here is the reason:
Genesis 6:5-7: "And GOD saw that the wickedness of man was great in the earth, and that every imagination of the thoughts of his heart was only evil continually. And it repented the LORD that he had made man on the earth, and it grieved him at his heart. And the LORD said, I will destroy man whom I have created from the face of the earth; both man, and beast, and the creeping thing, and the fowls of the air; for it repenteth me that I have made them."
Because the imaginations and the thoughts of men's hearts were continually evil. When God blew breath into Adam, he became a living soul. The soul refers to the part in us where our Will, Intellect, Emotions and Feelings live. You can say Adam became a living will. He could have dominion over the earth after his own free will. Adam's will was in line with God's will as long as Adam obeyed God's command. The same is true for us. We will be doing God's will in our lives as long as we do what the Bible says we should do. But when we start to follow our own will then it means that our thoughts and intents of our heart (Mind) is evil. The word used in the Hebrew for 'heart' is translated directly as 'mind'.
God by his grace does not destroy us when our hearts are evil but it does remove us out of God's blessing. To return to God's pure and perfect will simply means we must repent and lay down our will to him. Once our will is in line with God's will again, we can return to our position of dominion and authority over all the power of the enemy as he promised us…
Luke 10:19: "I have given you authority to trample on snakes and scorpions and to overcome all the power of the enemy; nothing will harm you."
Also have a look at my post about How to Pray with authority
As I made this little magnet my prayer was that people will be reminded of God's sure promises. That they will start saying His promises out loud and that they will start to believe the promises. When we believe we can talk to a mountain and doubt not in our hearts and it shall be removed. Mark 11:23
If you would like to own one of my unique magnets or even sell them send me an email.
I would love to hear what you think! Leave me a comment!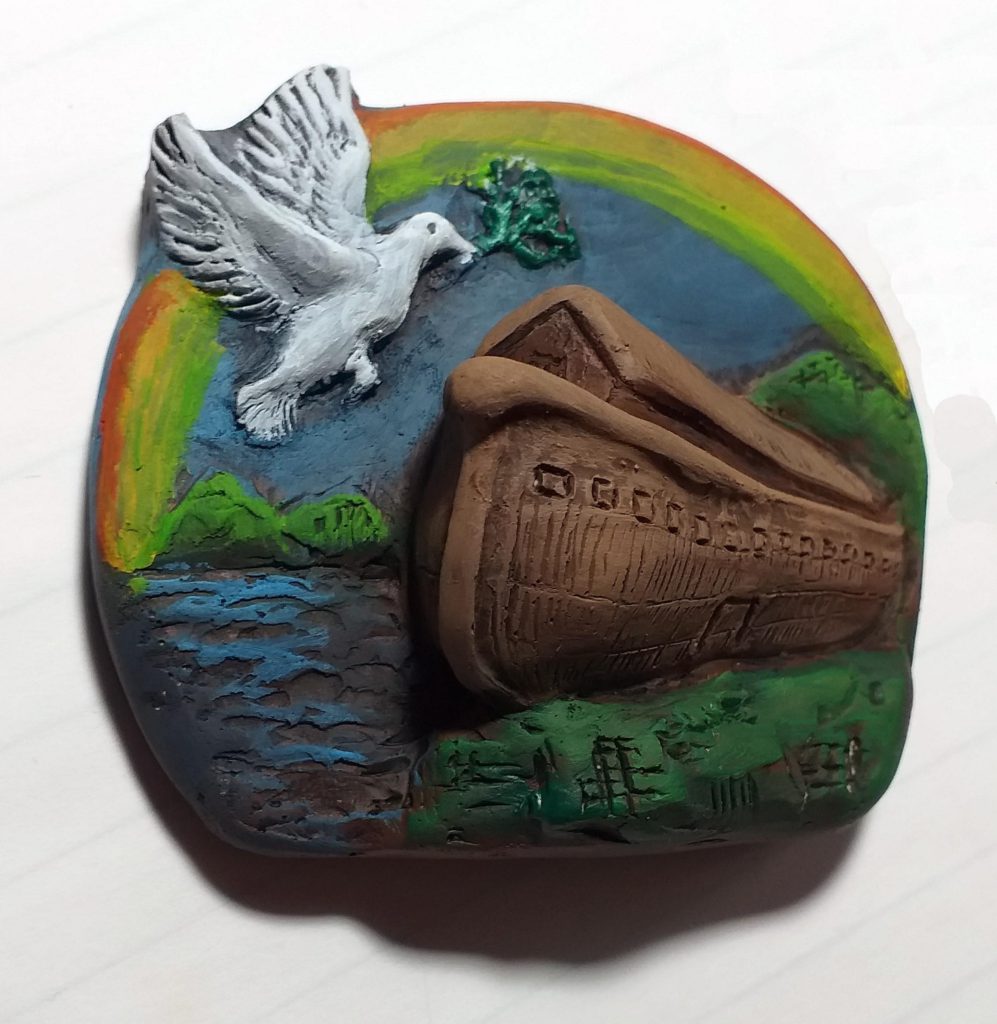 More interesting facts about Noah's Ark – Did you know they found the ark!?