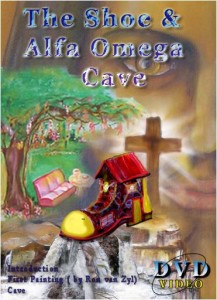 DVD 1 – The Shoe & Alpha Omega Cave

Single disc: R100.00 (excl postage)
Also available in Afrikaans now!
Features: Dr Ron van Zyl doing a guided tour through the man-made Cave which he built himself.  See the page on the CAVE for more information and watch a short PowerPoint Presentation video. if you would like to see what it looks like, or read about it in the first (Book 1 – The Line) and 8th book (Book 8 – The Conscience).
Duration: 50 Minutes