In my own spiritual growth, the greatest breakthrough was when I learned that negative emotions caused God could not to bless me. Because God taught us this truth we spend our lives teaching people about it.
When we draw a horizontal line through the middle of a page we can write good emotions in the top half. Things like those written in Gal 5:22: "The fruit of the Spirit is love, joy, peace, forbearance, kindness, goodness, faithfulness, gentleness, and self-control. Against such things, there is no law." 
In the bottom half, we write those negative things that are Gal 5:19-21:  "The acts of the flesh are obvious: sexual immorality, impurity, and debauchery; idolatry and witchcraft; hatred, discord, jealousy, fits of rage, selfish ambition, dissensions, factions, and envy; drunkenness, orgies, and the like. I warn you, as I did before, that those who live like this will not inherit the kingdom of God."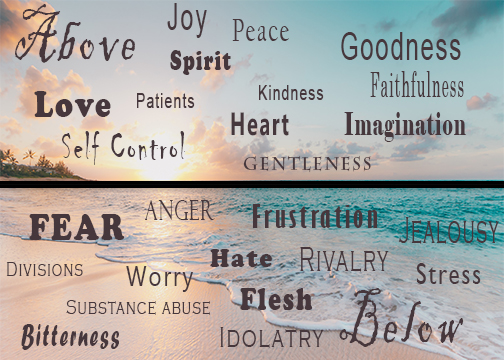 These are the works of the flesh. If I allow these lower emotions like impatiens, fear, or worry into my heart then the lower emotions have come into the above.
The top half, above the line, is where my spirit is present, it is also my heart. It is also where we hope and imagine. Our hearts belong to God and we should love God with all our hearts. In other words; keep the below from coming above.
Proverbs 4:23:  "Above all else, guard your heart, for everything you do flows from it."  NIV.
Strictly speaking, when the below come above, we have a sinful state in the heart, which God does not bless. God is a good God who wants to bless us with all the good things we can imagine. When the below comes above, our imaginations are not life-giving.
The above is the kingdom of God within us. It can be described as a garden in which seeds must be sown into. If we allow the below into the above it will be compared to corrupted seeds that are being planted and it brings forth thorns and thistles. We are now like Adam, we are not guarding the garden; not guarding the heart.
However, who can Guard the heart completely? Who can keep the below out of the above by themselves? There is no other way than to follow Jesus.
Luk 9:23:  "And he said to them all, If any man will come after me, let him deny himself, and take up his cross daily, and follow me." 
We take up our cross and we nail to the cross those sinful thoughts like worry, fear, and shame. We do this in the same way that Jesus was crucified, we also crucify the sinful man. We do this while using communion. When we crucify the flesh we eat the flesh of Christ. Then we drink the blood of Jesus which is a seal for our hearts and provides us with a blood-washed conscience. Heb.12:22.
The below can no longer come above, we are sealed with the blood of Jesus, now you can go ahead and have a great day while giving God thanks and praise.
This is the only way to stay above.
Deuteronomy 28:1-8  And it shall come to pass, if thou shalt hearken diligently unto the voice of the LORD thy God, to observe and to do all his commandments which I command thee this day, that the LORD thy God will set thee on high above all nations of the earth. And all these blessings shall come on thee, and overtake thee if thou shalt hearken unto the voice of the LORD thy God. 
Blessed shalt thou be in the city, and blessed shalt thou be in the field. 
Blessed shall be the fruit of thy body, and the fruit of thy ground, and the fruit of thy cattle, the increase of thy kine, and the flocks of thy sheep. 
Blessed shall be thy basket and thy store. 
Blessed shalt thou be when thou comest in, and blessed shalt thou be when thou goest out. The LORD shall cause thine enemies that rise up against thee to be smitten before thy face: they shall come out against thee one way, and flee before thee seven ways.
 The LORD shall command the blessing upon thee in thy storehouses, and in all that thou settest thine hand unto; and he shall bless thee in the land which the LORD thy God giveth thee. 
___________________________
What is this letter?
Dear Reader. This is a monthly e-mail letter that was sent out to our subscribers on the date indicated in the header. You can find an archive of previous letters on our Monthly E-mails tab.
Usually, we only send these emails to persons who have visited us and have been into our Man-Made Cave: The Alpha Omega Cave, to whom we have shared our revelation about The Line. If you have not visited us in person you can watch a video of our Cave tour. In doing so you will be able to understand our letters much better.