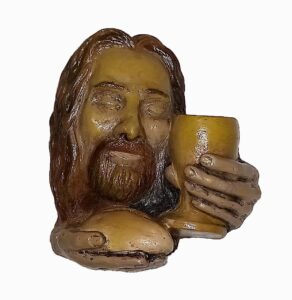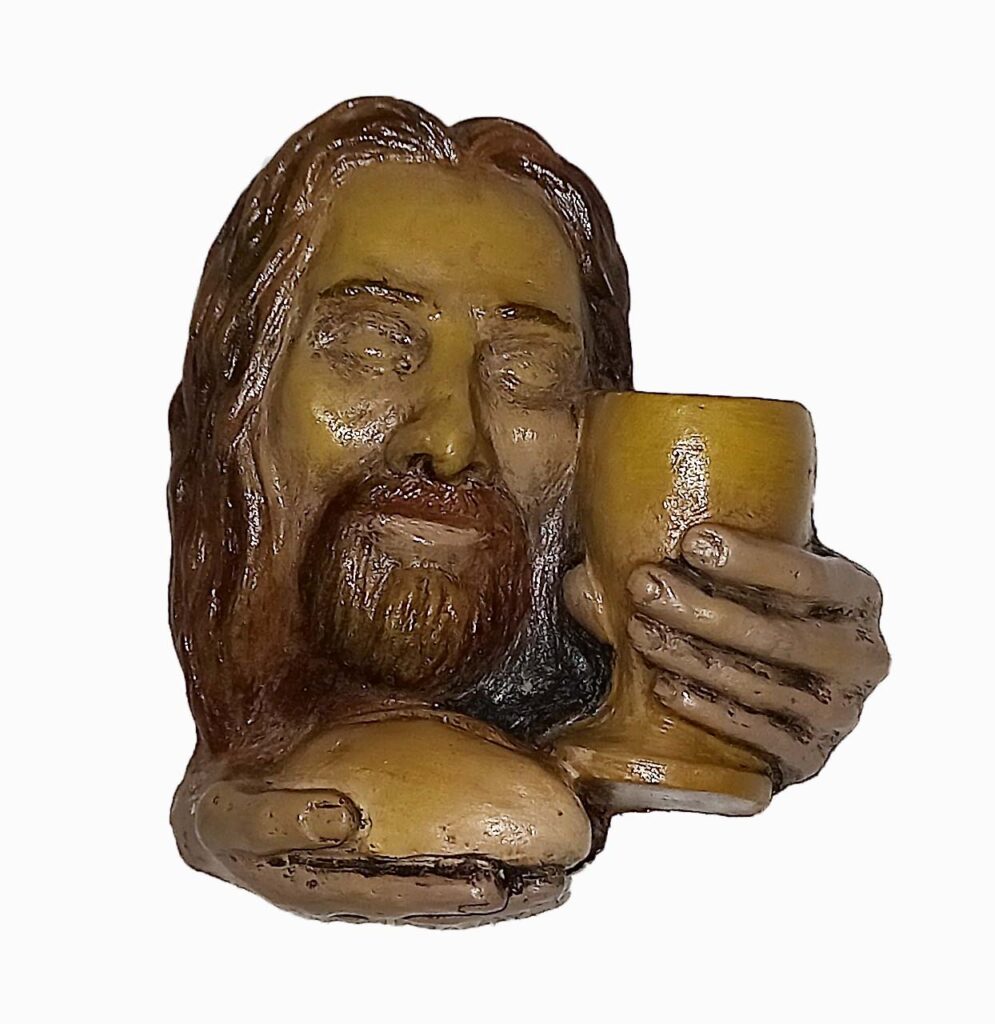 The Communion
This magnet features Jesus holding the elements, the wine and the bread up near his face. I suppose this is what it would have looked like on the night of Pentecost when Jesus served his Disciples with communion.
He broke the bread, blessed it and said take eat this is my flesh. After the meal he took the cup and said this is my blood of the New Testament, (new Covenant) which is shed for the remission of sins.
This Last Supper event is described in Matthew 26:27, Mark 14:23 and Luke 22:17.
The book of John is the only one who does not record the breaking of the bread during the Last Supper. John 13 does however record Jesus washing the disciples feet. Jesus rose up after they finished the meal (After serving them the communion) he laid his garments aside, poured water into a basin and started washing his disciples feet. When he came to Simon Peter, Peter first asked why he was washing their feet and then Peter did not want Jesus to wash his feet. Jesus replied in John 13:8: "If I wash thee not thy has no part of me".
The whole idea of the Communion is so that we can have part in the work that Jesus accomplished for us. In John 6 Jesus mentions this a number of times;
John 6:51:  I am the living bread which came down from heaven: if any man eat of this bread, he shall live for ever: and the bread that I will give is my flesh, which I will give for the life of the world.
If we eat of Him we have life!
John 6:52- 56:  "The Jews therefore strove among themselves, saying, How can this man give us his flesh to eat? Then Jesus said unto them, Verily, verily, I say unto you, Except ye eat the flesh of the Son of man, and drink his blood, ye have no life in you. Whoso eateth my flesh, and drinketh my blood, hath eternal life; and I will raise him up at the last day. For my flesh is meat indeed, and my blood is drink indeed. He that eateth my flesh, and drinketh my blood, dwelleth in me, and I in him."
If we eat the body of Jesus and drink his blood, he dwells in me and I in him!
The exact work that Jesus accomplished on the cross is so vast! It is almost too big to describe. Every Christian should spend time meditating on the the work of the Cross. Derek Prince had a booklet out called 'The Divine Exchange.
The free download to this book can be found at the bottom of this page. On the very first page of the book Derek states one can only receive from the Cross to the extend one understands the cross.
These are the 10 points he makes in his booklet:
Jesus was punished that we might be forgiven.
Jesus was wounded that we might be healed.
Jesus was made sin with our sinfulness that we might be made righteous with his righteousness.
Jesus died our death that we might share his life.
Jesus was made a curse that we might receive the blessing.
Jesus endured our poverty that we might share his abundance.
Jesus bore our shame that we might share his glory.
Jesus endured our rejection that we might have his acceptance with the Father.
Jesus was cut off by death that we might be joined to God eternally.
Our old man was put to death in him that the new man might come to life in us.
Questions about Communion
Praise God for Paul, he is faithful in answering all the questions we have about communion. In 1 Corinthians chapter 10 and 11 Paul has a lengthy discussion about how to use the communion. If you read all the accounts of the Last Supper as I mentioned above you will see that the breaking of the bread was part of the meal. They ate their whole meal with the unleavened bread and after the meal Jesus took the Cup.
In Acts 2:42 it says all the believers continued steadfastly in the apostles' doctrine and fellowship, and in breaking of bread, and in prayers. In verse 46 it says they went to the temple daily and went from house to house breaking bread.
How often should we use communion?
I believe this question can be answered if you ask yourself: How often do you need communion?
1 Cor 11:26 says for as often as ye eat this bread, and drink this cup, ye do shew the Lord's death till he come.
If taking Communion let's you testify of Jesus Christ then we take it as many times as we need to testify of Jesus Christ.
If taking the Communion means I receive the life of Jesus Christ, then I take it as often as I need to be filled with the Life of Jesus Christ.
If taking the Communion means getting forgiveness of my sins, then I take communion as often as I need to repent and be washed by the blood of Jesus.
If you understand that Communion helps you receive the blessings and promises of God, such as health, then we use it as often as we need health. Derek Prince wrote that he took the communion as medicine, three times a day until he was cured.
What about taking Communion unworthily?
1 Corinthians 11:27 clearly states that whosoever shall eat this bread, and drink this cup of the Lord, unworthily, shall be guilty of the body and blood of the Lord. Because of this many of you are weak and sickly and many sleep.
I believe what Paul is saying is, we should remember Jesus Christ when we eat of his body and drink of his blood.
In 1 Corinthians chapter 10 he reminds us of the Israelite's who were all baptized into the same sea and drank from the same rock, Jesus Christ but even they committed idolatry, fornication and murmured and complained. Just as they were one in all this, we are one by eating from the same loaf of bread, Jesus Christ. In Chapter 11 he tells the church that he heard complaints. Some are hungry, so they don't wait for the others before partaking of the Bread, and others are drunk. He says to them the Lord's Supper is not to fill your tummy it's to remember Jesus Christ. We are to judge ourselves before we take part of the Communion. Consider the state of your heart or conscience, forgive and make peace before you eat and drink.
1Co 11:28 But let a man examine himself, and so let him eat of that bread, and drink of that cup.
We are to follow Jesus' example, we are to lay down our lives for the sake of others, we are to turn the other cheek, we are to love others as we love ourselves. We are also suppose to do what Jesus did on the earth, we are to have the same authority he had, we are to heal the sick, raise the dead, cleanse the leapers and preach the kingdom of God. I do believe that using the Communion daily can strengthen us with the life of Jesus Christ. By walking in that life which he supplied to us through the work of the Cross we can do the things Jesus did. We can receive the blessings that were lined up for us, we can receive the healing that was already given to us.
Download the free book ' The Divine Exchange' here.
I would love hear your comments! Please leave a reply below.
To order your magnets email me here.