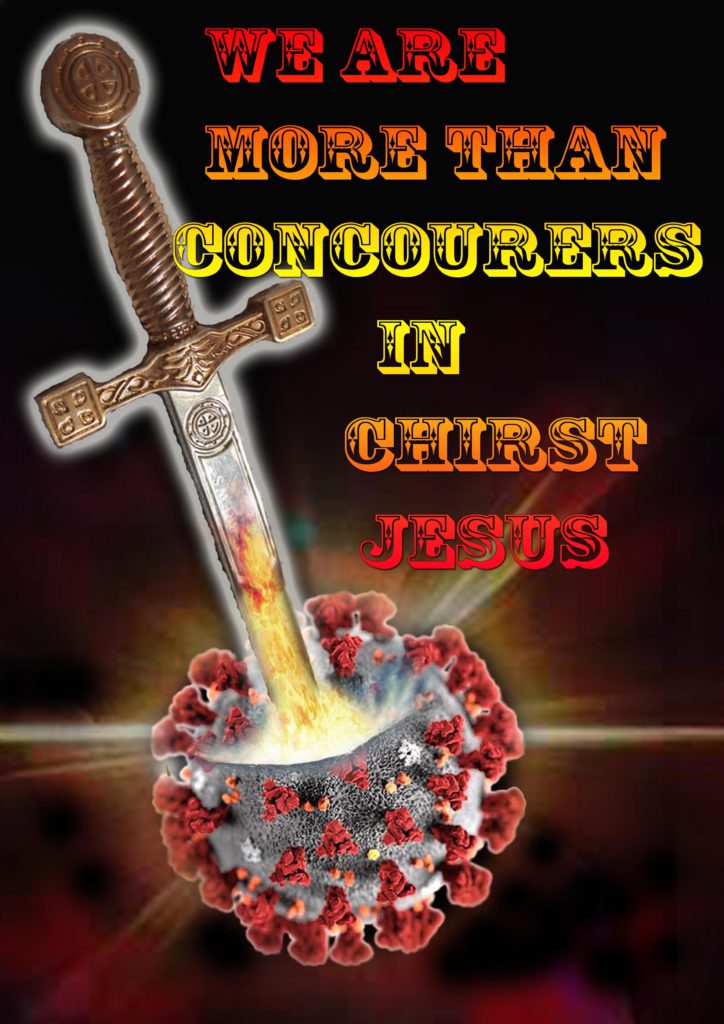 This morning I as up early and I was praying for safety. We all need safety and protection. Not only in this time of the Covid 19 Virus but in our every day lives.
As I was praying I saw the virus destroyed by the Sharp two edged sword of the Word of God. So I created the image for you. Send it around and lets spread the victory!
Praying soft prayers of begging God for protection will however not do it.
Please see my article on How to Pray.
We have been given authority and power over all the power (ability) of the enemy. (Luk 10:19) This is what Jesus said to the 70 disciples whom he sent out to go and heal and preach the gospel. When they returned they said to him. "Even the devils are subject unto us!" But then Jesus replied and said: "I saw Satan fell from heaven as lightning… don't rejoice because the devils are subject unto you but rejoice because your names are written in heaven." (Luke 10:20)
We should rejoice because the work that Jesus Christ came to do for us was to overcome the Devil. Every time we take authority and act like Jesus in the earth we are removing Satan and his evil spirits from 'heaven' which is the minds of people. Jesus came to save us, he has won the war! Every person who are still in bondage of some kind is just a prisoner of war. They do not know that Jesus has already won the war. We are to enforce the will of God, we are to preach freedom to the captives and proclaim liberty to those in bondage.
Satan has been overcome and we are overcomers in Christ Jesus. Proclaim the fact that we are free! Proclaim that Satan has no right to attack us! He has no right to make us sick or put us in bondage.
While you stand to pray like I described in my post about How to Pray then declare the World of God. Declare your protection and declare that you are healed.
Lets Declare!
Copy this declaration and hang it on your walls. Declare the Word of God over your life daily. I say daily because we have to renew our minds and we have to start believing the truth. Faith only comes by hearing and hearing comes by the World of God! Without faith it is impossible to please God. But we have been given the Faith of Jesus Christ!I declare that Jesus Christ was made manifest so that the works of Satan is destroyed. (1 John 3:8)
* I have been predestined to be conformed to the Image of Christ. (Rom 8:29
*I have not been given a spirit of fear but of power and love and a sound mind! (2 Tim 1:7)
* 2 Peter 1:3 All things that pertain unto life and godliness has been given unto us…we are blessed with every spiritual blessing in the heavens. (Eph 1:3)
*I am in Christ and God is in me! Together we are made perfect! (John 17:23, Eph 4:13)
*I am saved and I have received the promise of the Holy Spirit, which is the power of God in me! (Heb 10:10, Heb 10:36, Act 2:33)
*There is power in the Name of Jesus Christ, we are protected by the name of Jesus (John 17:11), every knee will bow and every tongue confess that Jesus Christ is Lord! All things in heaven and earth are subject to the name of Jesus. (Phil 2:10, Rom 14:11)
*God is faithful and he will accomplish every Word of his mouth!
*2 Thes 3:3 God is faithful and will strengthen and protect me from the evil one. (Prov 4:6, Prov 2:11)
*The Angels of the Lord is given command to protect me and encamp around me. (Ps 91, Ps 103, Ps 34:7-10)
*I am established in righteousness, tyranny is far from me, terror will not come near me and God's unveiling love for me will not be shaken and his covenant of peace will not be removed. ( Isa 54:9-15)
*No weapon formed against me will prosper, I will refute every tongue that accuses me for this is the heritage of the servant of the Lord. (Isa 54:17)
*Ps 91:10 No evil shall befall me and no plaque shall come near by dwelling.
This is my daily declaration for safety and protection. I urge you to speak the World of God and make it part of your life. If you are sick then start declaring the healing of God over your body! Here you can find healing declarations with scripture references. They have it in a downloadable document which you can print and speak out.
Remember it is God's will for us be victorious and overcome. When we just sit around without fighting the enemy, we are attacked and then believe it should be God's will for the bad to happen. That is not true. Jesus came to save us and deliver us from evil and give us the power to overcome. It is up to us to use that Power.
Join the discussion and send us your testimonies!
Here is a testimony of a healing from Covid 19.