Moses the law and the prophets all point towards Jesus and the cross.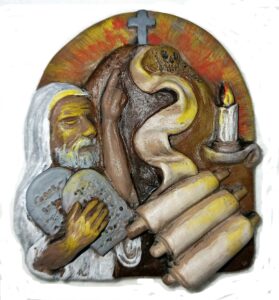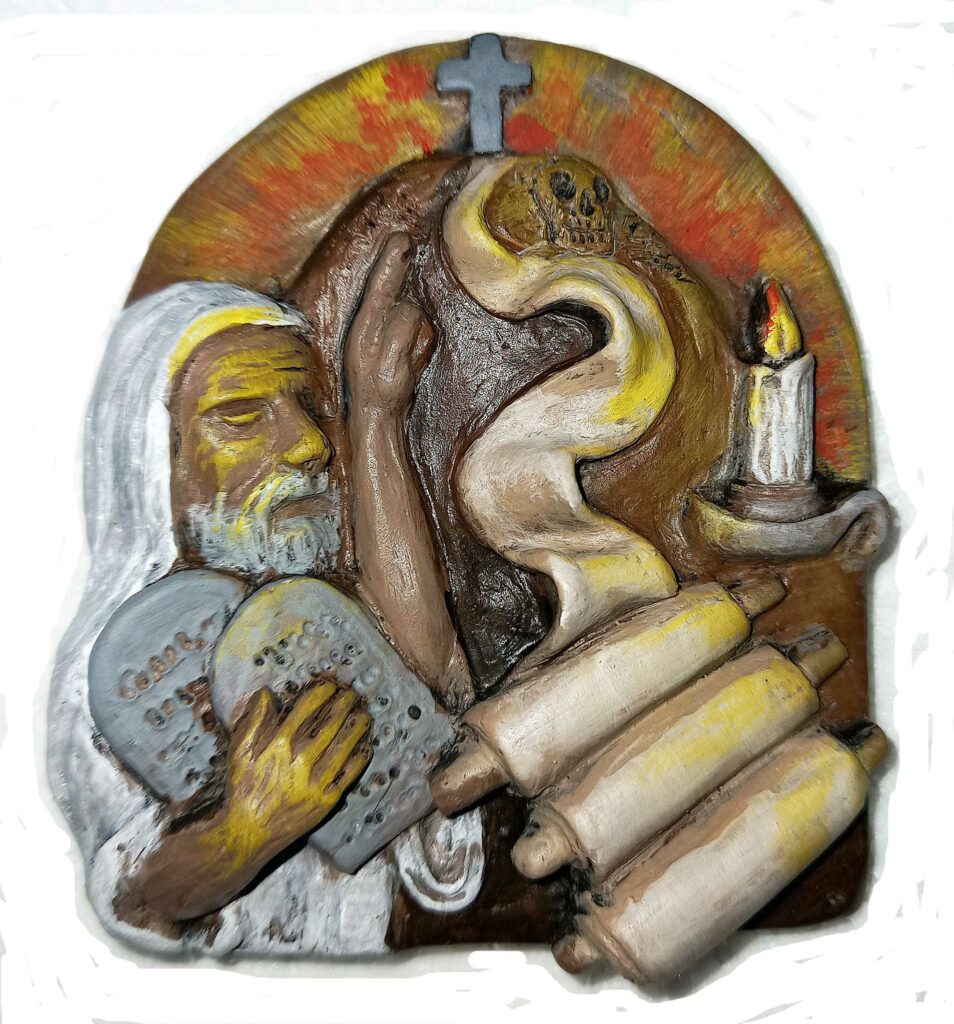 Mat 5:17  Think not that I am come to destroy the law, or the prophets: I am not come to destroy, but to fulfil.
With this magnet I want to stretch the fact that in Jesus and his Cross the law and the prophets were fulfilled. The little man in the magnet is Moses and he is holding the Ten Commandments on his chest. The Scrolls in front of him is the other books of the Old Testament, The Prophets and the books of the Laws of which Moses wrote five.  Moses' hand is pointing towards the cross on the hill and so does the scrolls, they paved the way. The Word of God gives life! The Word of God creates! You can say that throughout the ages Jesus was spoken into life by all the prophesies spoken throughout thousands and thousands of years. Take a look at my Creation magnet. On the right you see a candle, the candle represents the Holy Spirit who inspired the writers of the Bible.
My Dad carved a solid Lead Wood sculpture of Moses once. In his sculpture he had a mantle over Moses' head, just like I also made him. The mantle represents the mantle of humility. In Number 22 it is said that Moses was the most humble man on the face of the earth. That is a great statement to make of a man. It shows that his humility played an important role, without being humble the Holy Spirit would not have been able to write the law through him or perform the great task of leading the Israelite's out of Egypt.
There are many reasons why we should believe the Bible and one of these is because in the Old Testament there are over 300 prophesies that spoke specific things about Jesus Christ and what he would suffer thousands of years before it happened. Some of these prophesies were very specific and all these things happened down to the very last detail. I will point out a few specific prophesies for you but there are literally hundreds. 
This does not only prove that the Holy Spirit inspired the writers of the Old Testament but it proves that the scriptures are inspired by the Holy Spirit and that the Word of God, The Bible, is true.
Once you make the decision to believe God's Word, to make it the final authority in your life and act on it, you will be surprised at the changes in your life!
Romans 8:29 says that we have been predestined and chosen to be conformed unto the image of Jesus Christ!
Prophesies about Jesus
Here are 4 specific things said by David in Psalm 69.
1. (Verse 8) Jesus would become a stranger to his brethren and an alien to my mother's children.
This first point was fulfilled in many instances.  His disciples ran off after Jesus got arrested and even Peter denying him 3 times. In John 7:5 is specifically states that the disciples did not believe in Jesus.
2. (Verse 9) The zeal of thine house hath eaten me up
In John chapter 2 Jesus chased the money changers out of the temple and in verse 17 it says that the disciples remembered that it was written, The zeal of thine house hath eaten me up.
3. (Verse 9) The reproaches of them that reproached thee are fallen upon me.
Rom 15:3:  "For even Christ pleased not himself; but, as it is written, The reproaches of them that reproached thee fell on me."
4.  (Verse 21) he says they gave me also gall for my meat; and in my thirst they gave me vinegar to drink.
When Jesus hung on the cross it says they dipped a stick into a gall and vinegar mixture and held it up for him to drink. (Matthew 27:34, 27:48, Luke 23:36, John 19:29)
Prophesies about the suffering of Jesus
Now let's move over to Isaiah. The book of Isaiah has numerous specific prophesies about Jesus.
Is 53:1-4 speaks of his suffering. Isaiah said he was a man acquainted with sorrow and grief and that there was no beauty in him.  This speaks of the suffering Jesus endured during the crucifixion.
Then in Isaiah 53:5 it says he was wounded for our transgressions, he was bruised for our iniquities: the chastisement of our peace was upon him; and with his stripes we are healed.
This was fulfilled in Matthew 8:17:  "That it might be fulfilled which was spoken by Esaias the prophet, saying, Himself took our infirmities, and bare our sicknesses."
Again 1 Peter also mentions this: 1 Pet 2:24:  "Who his own self bare our sins in his own body on the tree, that we, being dead to sins, should live unto righteousness: by whose stripes ye were healed."
Isaiah also prophesied the virgin birth.
Isa 7:14:  "Therefore the Lord himself shall give you a sign; Behold, a virgin shall conceive, and bear a son, and shall call his name Immanuel." Immanuel means God with us!
In Matthew chapter 1 the genealogy of Jesus is named and in verse 17 it says that Mary was promised to Joseph but she was found with child. Joseph wanted to put her away secretly but that night in a dream an angel quoted the above verse to him and told him that the child is the chosen one.
In Luke 1 from verse 27 it tells of Mary and how she had an encounter with the angel who told her she would conceive the Christ.
The Prophesy of Jesus' clothes
Another very specific prophesy was about Jesus' clothes that would be cast lots for and divided and also his hands and feet that were to be pierced. The piercing of hands and feet could have only be done through crucifixion.  Here in Psalm 22 David prophesies this hundreds of years before crucifixion was ever a way of torture. It was the Roman Empire who brought about crucifixion as a method of torture and death.
Psa 22:16  For dogs have compassed me: the assembly of the wicked have enclosed me: they pierced my hands and my feet.
Psa 22:18  They part my garments among them, and cast lots upon my vesture.
This was fulfilled in Matthew 27:35 and  John 19:24.
Zachariah also prophesy this in Zec 12:10:  "And I will pour upon the house of David, and upon the inhabitants of Jerusalem, the spirit of grace and of supplications: and they shall look upon me whom they have pierced, and they shall mourn for him, as one mourneth for his only son, and shall be in bitterness for him, as one that is in bitterness for his firstborn."  
John 19:37 Quotes this very scripture of Zachariah and hereby confirms this prophesy.
God's Word Prophesy about YOU
Meditating on the Word of God will cause your eye to be full of light! If the eye is full of light then the whole body will be full of light. (Luke 11:34 and Matt 6:22)
The Spoken word of God can change your life, but you have to SPEAK it!
Today I want to impart into you the Prophesy of God over your life!
God says in Ephesians 2 that we were dead in sins but we are quickened together with Christ, we are saved by grace, we are raised up with Jesus and we are seated with him in heavenly places. We are created in Christ Jesus and we were created unto good works which God hath before ordained that we should walk in it.
Romans 8:29 says that we were predestined to be conformed to the image of his Son. We were chosen to be like Christ and this is the prophesy God has spoken about us.
If we choose to speak the Word of God over our own lives then this prophesy will come to pass.
There are much more to be said here but I just want you to know the power of God's Word.
Please leave your comments!
Get a brochure on all the magnets here.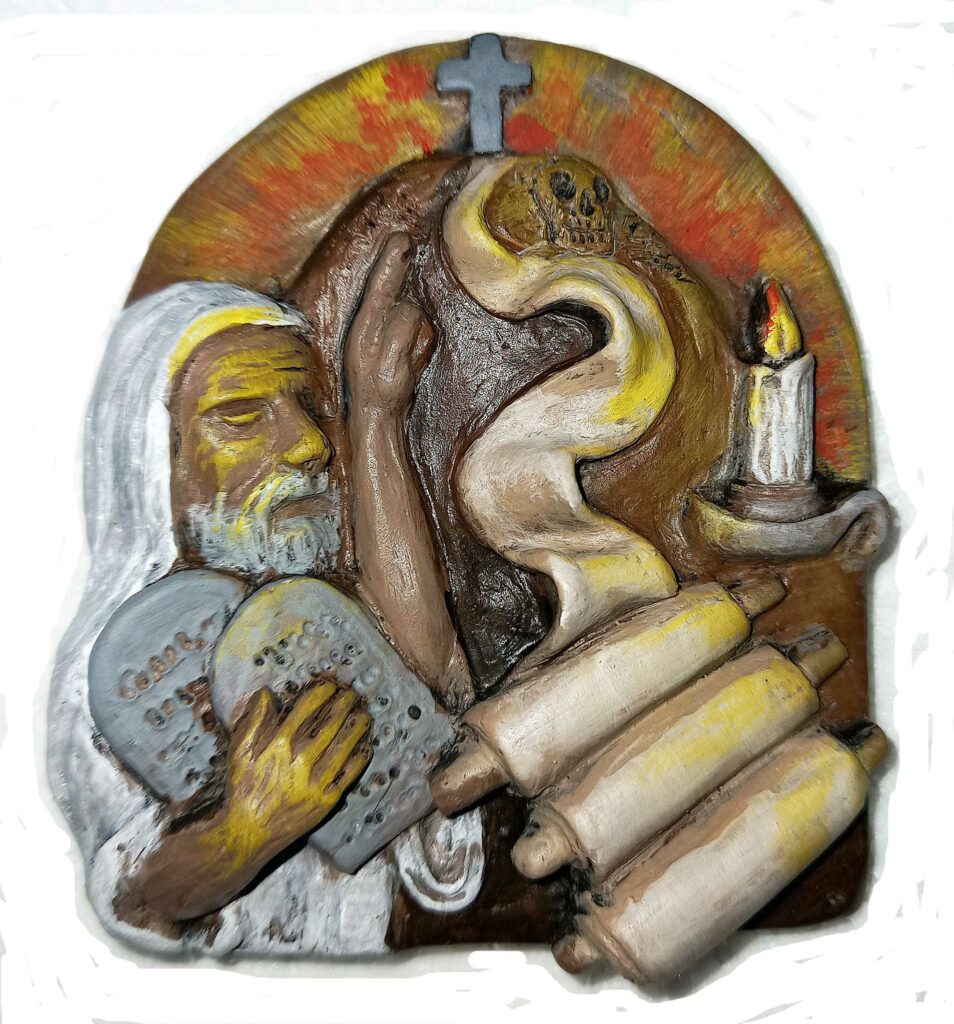 If you would like to own one of my magnets Email me.