Here at The Shoe Ministries, we preach the Cross. We do so because it is where we lay down all of our life in order to have a clear conscience. To have a clear conscience is to have a heavenly life here in the earth.
With a clear conscience, we can expect to receive instruction and inspiration as we are led by the Holy Spirit.
Everything I share with you is out of personal mistakes. I remember that I at one time begged God to help my child. I was immediately rebuked by the Holy Spirit. I then realized that the Afrikaans Bible talks about prayer and begging in Philippians 4. (Gebed en smeking) By this time I am sure that all of our readers have come to the conclusion that it does not work to beg God.
If you analyze your own prayers it could help you a lot to get things done in the heavens.
Let me remind you of the Glory Painting you saw here at The Shoe before you entered into the Cave: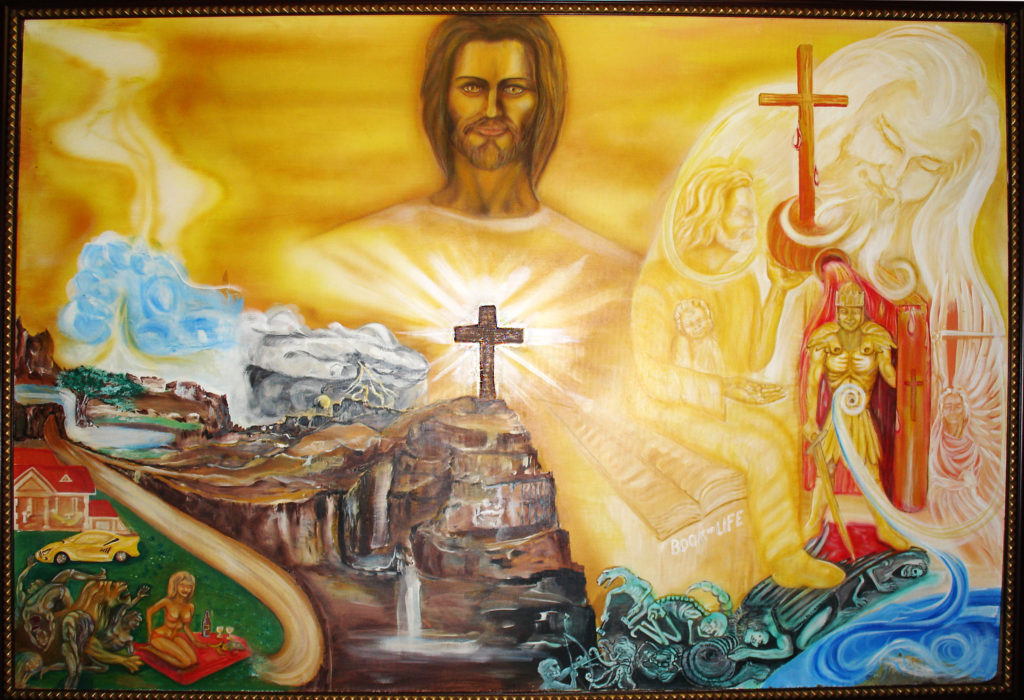 Jesus made it possible for us to enter into Him and the work he did for us on the Cross. Therefore we can boldly come to the throne of God. We are now reinstated to be joint-heirs with Jesus. The dominion Adam had and lost is now ours. With a clear conscience, we are seated above in heavenly places with Christ. Eph.2:6
Notice the man wearing the full armour of God, standing under the Blood of Jesus, in front of the Throne of God, on the right side of the painting.
How can we be begging out of this position?
I would never allow my child to beg me for anything; since everything is already his.
I have a task to prepare him, to rule over what he already has. There are rules that we live by that are written in the conscience which the Holy Spirit uses to guide us into the transformation of the mind. This is why it is so important to honour the Holy Spirit daily. He is that small voice that can only be heard if the conscience is clear. The same power that rose Jesus from the dead is the Holy Spirit in us. Jesus did no miracles until the Holy Spirit came upon him. This Spirit of God is the gift of God to us so that we can feel our way towards Him.
Act 17:27:  "So that they should seek God, in the hope that they might feel after Him and find Him, although He is not far from each one of us." 
God does not mind if we make mistakes as long as we are open to being led by the Holy Spirit to be transformed in the mind.
Rom 12:2:  "And be not conformed to this world: but be ye transformed by the renewing of your mind, that ye may prove what is that good, and acceptable, and perfect, will of God." 
We are born in sin and our natural sinful nature does not understand the things of God. For this reason, we become a daily living sacrifice as the Holy Spirit points out our carnal thinking.
Rom 12:1:  "I beseech you therefore, brethren, by the mercies of God, that ye present your bodies a living sacrifice, holy, acceptable unto God, which is your reasonable service." 
This word: "bodies a living sacrifice" is the flesh. It is the will, intellect, feelings and emotions that must be dealt with daily at the cross. We follow Jesus.
As we die daily to self by the guidance of the Holy Spirit we gradually grow into our inheritance, which is to rule.
This process of dying to self is called the circumcision of the heart (conscience).
It takes a long time and it hurts. The natural sinful nature does not die easily but fortunately, the Holy Spirit is patient with us. In this letter, I hope to set a beacon of light for you to be guided by in your spiritual growth. Your future on the earth is to live in Christ. You are going to do the things He did because the same Spirit who rose Jesus from the dead dwells in you. All of heaven is watching us as we grow. Paul describes it as a race that we run.
Heb 12:1:  "Wherefore seeing we also are compassed about with so great a cloud of witnesses, let us lay aside every weight, and the sin which doth so easily beset us, and let us run with patience the race that is set before us."
Let's talk about this! Leave your comments below!
_______________________________________
What is this letter?
Dear Reader. This is a monthly e-mail letter that was sent out to our subscribers on the date indicated in the header. You can find an archive of previous letters on our Monthly E-mails tab.
You can also subscribe to receive these letters in your inbox.
Usually, we only send these emails to persons who have visited us and have been into our Man-Made Cave: The Alpha Omega Cave, to whom we have shared our revelation about The Line. If you have not visited us in person you can watch a video of our Cave tour. In doing so you will be able to understand our letters much better. Please leave your comments! We love to hear from you!