The purpose of this magnet is to remind you of God's covenant promise!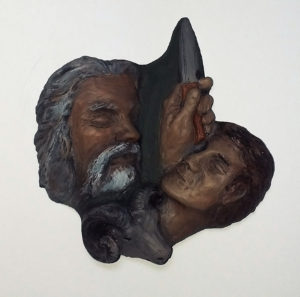 "And I will make of thee a great nation, and I will bless thee, and make thy name great; and thou shalt be a blessing:
And I will bless them that bless thee, and curse him that curseth thee: and in thee shall all families of the earth be blessed."

Genesis 12:2-3
You can read the story of Abraham and Isaac in Genesis 12 through to 22.
If you know the story of Abraham you will remember that he was tempted of God. In Genesis 22 God told Abraham to go and sacrifice Isaac. Abraham obeyed God and as he was about to kill Isaac the angel of the Lord stopped him. And again this is what the angel of the Lord told him:
And said, By myself have I sworn, saith the LORD, for because thou hast done this thing, and hast not withheld thy son, thine only son:
That in blessing I will bless thee, and in multiplying I will multiply thy seed as the stars of the heaven, and as the sand which is upon the sea shore; and thy seed shall possess the gate of his enemies; And in thy seed shall all the nations of the earth be blessed; because thou hast obeyed my voice.

Genesis 22:16 to 18
Did you notice the last part of both the promises? In Abraham shall all the families of the earth be blessed and the second verse all the nations of the earth be blessed. This includes all of us. We are all part of this promise. Because Abraham was willing to give his son to God, God gave his only Son to the world.
When we receive Jesus Christ as our Lord and Savior we enter into the covenant promise of divine blessing. In Christ we are blessed, in Christ we are more than conquerors, in Christ we are saved from this world and it corruptions.
Circumsision on the eigth day
When Ishmael was 13 years old God came to Abraham again and re-confirmed his covenant with Abraham. (Genesis 17) God told Abraham to circumcise every male among his people and that circumcision would be the sign of the covenant.
Circumcision is referred to as cutting the flesh. In Ephesians 2 Paul says that we should be circumcised in our hearts, cutting away the old man and be made new, unto the Image of Christ.
That is why we use the Cross of Jesus Christ as the door unto the Father in Heaven. When we lay down our lives as Jesus laid down his life we lay down the flesh. (Will, intellect, emotions and feelings) We are partaking of the circumcision of the heart.
So my prayer over this magnet as I was making it was that you will remember the Covenant promise you have with God. That He is for you and not against you and that he will always provide what you need!
To own these magnets send me an email.
I would love to hear from you! Post your comments down below!